Let us sing praise to the
So You Think You Can Dance
overlords! For on this, the fourth and final week of auditions for Season 9, we were finally blessed with the gift for which we have been praying for: ballroom dancers! I hope you all sacrifice a nimble female contemporary dancer in thanks and celebration.
It should come as no surprise that the talent was incredibly impressive in Salt Lake City. After all, Utah has given us some of our favorite dancers over the last eight seasons: Allison Holker, Sabra Johnson, Chelsie Hightower, Gev Manoukian, Tadd Gadduang, etc etc etc. And in a state where high school ballroom competition is practically the same as football, the cha chas and rhumbas were off the hook.
As we head into Vegas Week, here are my favorite auditions from the SLC...
Witney Carson, Salt Lake City Auditions
Right off the bat, we got Witney Carson doing a cha cha tango. She reminded me of fellow Utahn Chelsie Hightower, an adorably cute blonde with a thousand watt smile that transforms into a Hot Tamale vixen as soon as the music starts. Her articulations were sharp and crisp and her legs reached to unimaginable heights, and all the while she maintained a strong connection with her partner, who unfortunately was too young to actually audition. Come back in two years!
Deanna "Dee" Tomasetta, Salt Lake City Auditions
Dee's intro package might have been jam packed with Italian schmaltz and protective
Jersey Shore
-esque cousins, but her solo to "I Can't Make You Love Me" was like a breath of fresh air: stunning, gorgeous and nuanced beyond belief. Her commitment to every movement had be captivated from start to finish.
Ballroom Extravaganza, Salt Lake City Auditions
While not as captivating as Witney Carson, Lindsay Arnold and the montage of ballroom auditions following her had me cheering on my couch after weeks of being deprived of tangos and sambas! I just hope they can serve it up in Vegas so we can get some ballroom dancers in the Top 20 that make it beyond the first three weeks of the show.
Mariah Spears, Salt Lake City Auditions
Well, I'll be damned. That girl can kruuuummmmmmp! Beyond the initial shock that this little blonde pixie was krumping, she was actually good at it! I would love to see her do a krump duet with Season 6 champ Russell—can you imagine that pairing?? And I wish Lil' C had been there for her audition. How many times do you think he would've said "buck"?
Leroy Martinez, Salt Lake City Auditions
I LOVE LEROY! The pure joy and energy he brought to his solo was an inspiration, and I couldn't believe how well he could move his body—did you see that flip?!?! It's also pretty bullshit that the judges didn't let him go to Vegas,
especially
after they let that horridly annoying karate guy
Tim Conkel
through after his atrocious "ballet" display. Seriously, we have to deal with more Conkel, but it's the end of the road for jolly Leroy?! One of the biggest disappointments of the Season 9 auditions, if you ask me.
Fortunately, we were also treated to one of the
best
moments of the season so far when Cat interviewed self-proclaimed "ladies man" Johnny Ahn. First of all, buddy, obviously a two-year dating course isn't working if you still don't have a girlfriend. Secondly, don't be a total creep and ask Cat Deeley for a back rub, because this is what she'll do: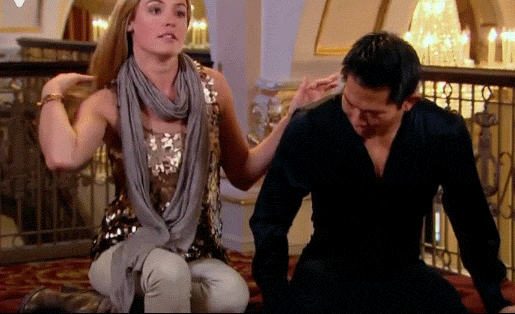 And
that
, ladies and gentlemen, is why Cat Deeley is a queen and deserves to win an Emmy this year. She is the best. ever.
Now it's time for Vegas Week, which will make or (quite literally) break over 100 dancers when they are subjected to the likes of Sonya Tayeh, Tyce "Chin Strap" Diorio and the rest of the
SYTYCD
arsenal. Cue the ambulances and see you in a week!